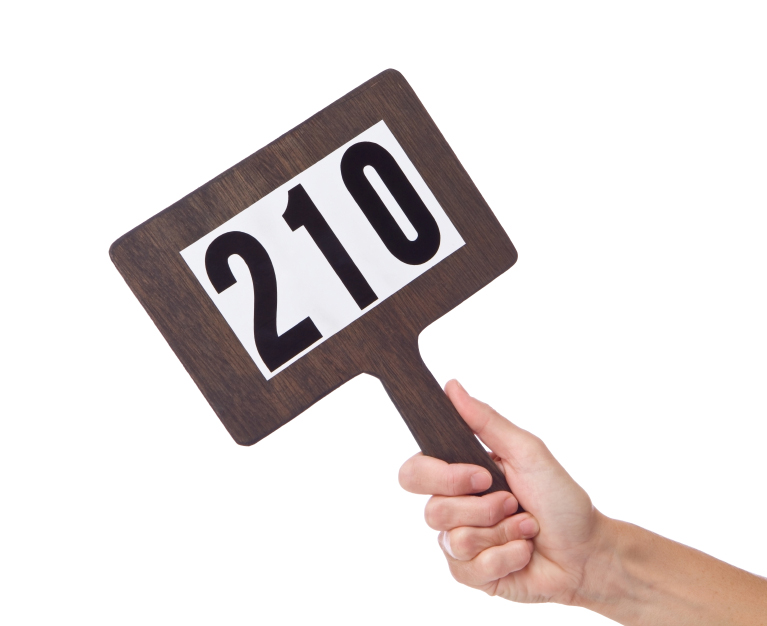 Over the last decade big things have been changing in real estate sales and the biggest change … the auction market. For a long time, the auction industry was primarily considered a fix to relieve the market of distressed or unwanted properties. This is no longer the case and as a real estate owner, you owe it to yourself to understand how, for the right property, the auction method of marketing
could help you realize a higher sales price
than selling it via conventional techniques. In the wake of a steady property market recovery, real estate auctions have stepped confidently into the limelight. Last December, Rick Sharga, executive vice president of a leading online auction company, told 
The Wall Street Journal
 there has been a 120 percent increase in the number of properties sold via the auction method compared with five years ago. The statistics all point to the same answer – there is an immense interest in the auction industry. For example, recently Google invested in more online auction capabilities.  "Google is a very smart and disciplined company and has a multitude of reasons for investing in the online auction industry," Shawn Terrel, vice president of 
United Country Auction Services
, the leading rural auction agency of the United States, told 
Realty Today
 . "Google's ability to obtain direct auction sales data could become a very important piece of the equation," he added. "It will be interesting to see how they interact with their recent investment, but from the outside looking in I believe Google's investment is a very positive sign that the real estate industry is being noticed and that United Country Real Estate will have a very bright future as we continue to build and dominate in real estate auction information and auction marketing."
The new normal?
The auction industry nationwide has experienced double digit growth each year over the last decade.  For example, a January report released by 
Birchwood Credit Inc
., stated that the number of auctions in January 2014 went up 75% in Chicago compared with the year before. For any property with high demand, technically with more than 1or 2 currently interested buyers willing to pay market price, an auction may be the most effective way to achieve the highest sales price.  In all markets some percentage of properties are in high demand.  By auctioning these high demand properties, a seller can let the interested buyers bid the price up over the sellers estimated market price.  One of the buyers will be willing to pay $1+ more than others after reaching the market value.  We regularly see high demand properties exceed the sellers estimated price by 10 – 20% and have even seen premiums as high as 40%. In Australia, for example, all homes with strong buyer interest are always auctioned for this reason.  Nearly 80% of all real estate in Australia is sold via auction.  Only properties with lower buyer interest are sold conventionally and take more time to sell since the one buyer is harder to locate (market to/find). So auctions are being used more and more for high demand properties versus distressed properties.  According to 
Realtor Magazine
, the demand for private owner auction sales outpaced foreclosure auction sales in 2012. In the meantime, the number of people opting for the auction sales method has increased exponentially – so much so that auction companies have become increasingly picky. According to The Wall Street Journal, some auction companies only accept one out of every 25 auction applications they receives. Terrel is convinced this isn't just a fluke or passing trend. "The importance of auctions in the real estate marketplace," he said, "is that they will eventually become the primary method of selling high demand property."
Industry Leader
With the goal of leading the real estate auction industry, United Country Real Estate – Auction Services, the auction division of
United Country Real Estate
and the leading real estate auction group in the US, significantly enhanced their  auction service framework and systems over the last seven years. Having specialized in lifestyle, non-urban, real estate since 1925 and conducting auctions as a part of those services for decades, the company has seen major changes in real estate auctions role in the overall real estate market over the last decade.  Auction sales have doubled as a percent of sales over this time.  Today, the division accounts for over 20%  of annual sales, including annual sales in recent years of more than 
$500 million
 – a feat that earned it the top place on Land Report's list of "America's Top Auction Houses" in each of the last three years.
Technological revolution
At the crux of all of this is ever improving technology, which Terrel considers the major change driver of the auction industry. "The amount of growth and development of auction technology has allowed consumers to become mobile yet still connected," he said. "Internet and mobile online auction bidding platforms provide that [from your living room or office buying and selling] mechanism to consumers allowing them to participate in auction events from virtually anywhere at any time. And consumers are highly interested in online auctions.  For example, the United Country Real Estate Online Auction bidding platform receives between 5-7 million visitors collectively each month, which is setting the industry standard," he added.
Looking forward
Terrel believes the auction industry has even more growth ahead, as he remains confident that it will become one of the strongest marketing tools for high demand properties in the near future. "I believe we will see a much stronger majority of residential and commercial real estate in this country being offered to the public via the auction method of marketing in the foreseeable future," he said. Soon, he says, real estate data will become more indispensable than the inventory itself. He explains that any casual or related known information or activity could be used to market to a potential buyer the kind of property he or she may be looking to buy. For example, if someone buys a saddle worth $500, there is a possibility that he or she will be interested in a horse property, ranch or a property near one. If you would like to learn more about real estate auctions as an option to buy or sell properties you have an interests in, contact us today.